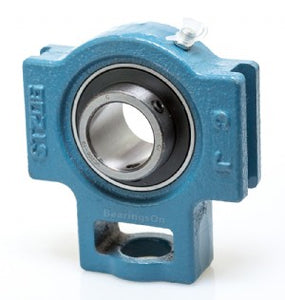 1 1/16" Take-Up Bearing Unit UCST206-17
UCST206-17

UCST206-17 Wide Slot Take-Up Bearing Unit?has a wide inner race with a set screw locking and a normal duty housing. This specific bearing?UCST 206-17 Wide Slot Take-Up Bearing Unit?allows and adjustable and free mobility of the unit due to a sliding slot at the side of the housing. It is the most suitable when used to the tension bearing for the belt conveyor or by placing where the shaft distance must be adjusted.?

Common usage for?UCST200?Series?Pillow Block Bearing include: Agriculture, Automotive, Construction, Pump, Manufacturing Equipment, Sporting and Consumer Goods, Conveyor and Fan Assemblies, Farm Machinery, HVAC, Feed Mill, Economical housed bearing solution and many other Industrial Equipment.


?????????????????????????????????????????????????????????UCST 206-17 Dimensions
| | | | | | | | | | | | | | | | | |
| --- | --- | --- | --- | --- | --- | --- | --- | --- | --- | --- | --- | --- | --- | --- | --- | --- |
| Unit | Shaft Dia | o | g | p | q | s | b | k(in) | e | a | w | l | l | h | Bi | n |
| inch | 1 1/16 | 5/8 | 13/32?€€ | 2 7/32?€€ | 1 15/32?€€ | 55/64 | 2 1/4 | 17/32 | 3 1/2 | 4 1/32 | 4 7/16 | 1 15/32 | 1 3/32 | 2 3/4? | 1.550 | 0.626 |
| mm | | 16 | 10 | 56 | 37 | 22 | 57 | 13.5 | 89 | 102 | 113 | 37 | 28 | 70 | 38.1 | 15.9 |