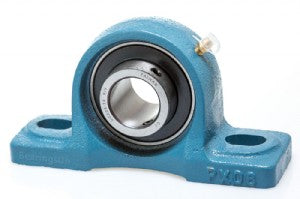 1 3/4" Pillow Block Bearing Medium Duty UCPX 09-28
UCPX09-28 ALSO KNOWN AS UCPX 09-28

UCPX Series?allows larger loads for the same sized shaft.?The bearing has a wide inner ring with two set screws for attaching to the shaft. Medium duty bearings have larger housings and larger OD bearings than standard duty bearings.
UCPX09-28 Dimensions
| | | | | | | | | | | | | |
| --- | --- | --- | --- | --- | --- | --- | --- | --- | --- | --- | --- | --- |
| Unit | Shaft Dia | h | a | e | b | S2 | S1 | g | w | Bi | n | Bolt Size |
| inch | 1 3/4 | 2 5/16 | 8 3/4 | 6 5/32 | 2 5/8?€€ | 1 5/16 | 25/32 | 13/16 | 4 9/16 | 2.0315 | 0.7480 | 5/8 |
| mm | | 58.7 | 222 | 156 | 67 | 33 | 20 | 21 | 116 | 51.6 | 19 | M16 |
Interchange List

| | |
| --- | --- |
| AMI | UCPX09-28 |
| BROWNING | VPS-328 |
| DODGE PART # | 126813 |
| DODGE | P2B-SCM-212 |
| FAFNIR | YASM 1 3/16 |
| FYH | UCPX09-28 |
| IPTCI | UCPX09-28 |
| NTN | UCPX09-112D1 |
| PEER | UCPX09-28 |
| SKF | SYM 1 3/16 TF |
| SEAL MASTER | MP-28 |