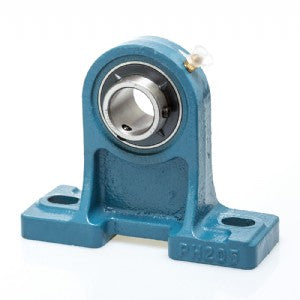 15/16" Pedelstal Pillow Block UCPH205-15
UCPH205-15

UCPH205-15 Pedelstal High Centerheight Pillow Block Bearing Unit?is equipped with a unique design that is two set screws positioned in the inner ring of the ball of the ball bearing to lock onto the shaft. The pillow block set screws placement is at a 90 degree angle to optimize balance between holding power and inner ring distortion.?
This features a positive contact, 3 piece, fiber embedded R-seal for protections against harmful contaminants for damage protection and retain lubricant. Installing the set screw locking mechanism on the pillow block is quite simple and well suited for reversing applications and normal loads.

UCPH 200 Series High Center Pillow Block Bearing?common usage include: Construction, Conveyors, Food and Beverage, Packaging and General Industrial Equipment's.?


UCPH 205-15 Dimensions
Unit

Shaft Dia

h

a

e

b

u

v

g

w

Bi

n


Bolt?
Size

inch

15/16

3 5/32

5 1/2

4 1/8

1 31/32

3/4

1/2

5/8

4 31/64

1.3386

0.5630


3/8

mm

80

140

105

50

19

13

16

114

34.1

14.3


M10
Interchange List
Pre-lube

AMI

UCPH 205-15

FYH

UCPH205-15

NTN

UCHP205-015T