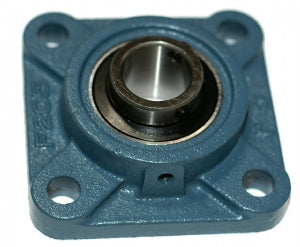 4" Medium Duty 4-Bolt Flange UCFX20-64
UCFX20-64 ALSO KNOWN AS UCFX 20-64

UCFX series has a wide ring with two set screws for attachment to the shaft.
Medium duty bearings have larger housings and larger OD bearings than the standard duty bearings.UCFX series allows larger loads for the same sized shaft.
? ? ? ? ? ? ? ? ?
UCFX20-64 Dimensions
Unit

Shaft Dia

a

e

i

g

l

s

z

Bi

n

Bolt?
Size

inch

4

10 9/16

8 5/16

2 21/64

1 3/32

3 13/16

1 7/32

4 5/8

4.626

1.937

1

mm

268

211

59

28

97

31

117.3

117.5

49.2

?M27