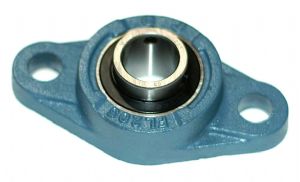 5/8" 2-Bolt Flange Bearing UCFL202-10
UCFL202-10

UCFL202-10 2-Bolt Flange Bearing?has a wide inner ring with two set screws that are attachments to the shaft. This specific bearing has a combination of a chrome steel set screw insert bearing and a oval cast iron 2-Bolt Flange housing. The?UCFL 202-10?2-Bolt Flange Bearing?insert has two grub screws to allow tightening against the shaft once fitted correctly.
Common usage for?UCFL200 2-Bolt Flange Bearing?include of the following: Agricultural, Automotive, Construction, Sporting and Consumer Goods, Pump, Manufacturing Equipment, Fan Assemblies, Farm Machinery, Conveyor, Feed Mill, Economical Housed Bearing, and many other Industrial Equipment's.


UCFL 202-10 Dimensions

| | | | | | | | | | | | | |
| --- | --- | --- | --- | --- | --- | --- | --- | --- | --- | --- | --- | --- |
| Unit | Shaft Dia | a | e | i | g | l | s | b | z | Bi | n | Bolt Size |
| inch | 5/8 | 4 7/16 | 3 35/64 | 19/32 | 7/16 | 1 | 15/32 | 2 3/8 | 1 5/16 | 1.2205 | 0.5 | 3/8?€€ |
| mm | | 113 | 90 | 15 | 11 | 25.5 | 12 | 60 | 33.3 | 31 | 12.7 | M 10?€€ |
Interchange List
| | |
| --- | --- |
| | Pre-Lube |
| PEER | UCFT202-10 |
| BROWNING | VF2S-210 |
| AMI/ASAHI | UCFT202-10 |
| IPTCI | UCFL202-10 |
| NTN | UCFL201-008D1 |
| SEAL MASTER | SFT-10 |
| DODGE PART # | 124167 |
| DODGE DESCRIPTION | F2B-SC-010L |
| LINK-BELT | FX3-U210N |
| FARNIR | YCJT-5/8 |