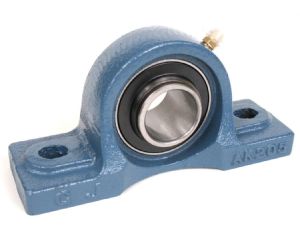 1 15/16" Pillow Block Bearing UCAK210-31
UCAK210-31

UCAK210-31 Low Center Pillow Block Bearing?has a unique combination of a low center base cast iron housing with an anti-rotation device that is self aligning and a set screw insert bearing with a slinger seal design. This specific bearing has a wide inner ring with a eccentric locking cam lock for the attachment to the shaft. In comparison with the UCP series the cast iron unit has a lower base to center than the UCP.

Common usage for?UCAK200 Series Pillow Block?Bearing?include of the following: Agricultural, Automotive, Construction, Sporting and Consumer Goods, Pump, Manufacturing Equipment, Fan Assemblies, Farm Machinery, Conveyor, Feed Mill, Economical Housed Bearing, and many other Industrial Equipment's.

?????????????????????????????????????????????????????????? UCAK 210-31?Dimensions
| | | | | | | | | | | | | |
| --- | --- | --- | --- | --- | --- | --- | --- | --- | --- | --- | --- | --- |
| Unit | Shaft Dia | h | a | e | b | S2 | S1 | g | w | Bi | n | Bolt Used |
| inch | 1 15/16 | 2 3/16 | 8 | 6 1/4 | 2 1/4 | 29/32 | 25/32 | 53/64 | 4 7/16 | 2.0315 | 0.7480 | 1/2?€€ |
| mm | | 55.6 | 203 | 158.8 | 57 | 23 | 19.8 | 21 | 112.7 | 51.6 | 19 | 12.7 |