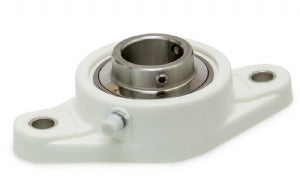 1 1/4" Thermoplastic 2-Bolt Flange SUCTFL207-20 WHT
SUCTFL207-20 WHT

SUCTFL206-20 WHT 2-Bolt Flange Bearing?has a combination of a stainless steel insert bearing and thermoplastic housing. This specific bearing?SUCTFL 207-20 WHT 2-Bolt Flange Bearing?has an excellent chemical and heat resistance up to 200 degree Celsius with glass fiber reinforcement.?


Common usage for?SUCTFL200 Series 2-Bolt Flange Bearing?include of the following: Air conditioning units, Chemical & Food Industry, Conveyor Systems, Dying and Printing Machinery, Textile, Pharmaceutical machinery, Photo & Film Processing Machinery, and Industrial Equipment.??
?? ?


SUCTFL 207-20 WHT Dimensions
| | | | | | | | | | | | | | |
| --- | --- | --- | --- | --- | --- | --- | --- | --- | --- | --- | --- | --- | --- |
| Unit | Shaft Dia | a | e | i | g | l | s | b | z | Bi | n | m | Bolt Used |
| inch | 1 1/4 | 6 15/32 | 5?1/8?€€ | 23/32?€€ | 5/8?€€ | 1 9/32 | 33/64 | 3?17/32 | 1 23/32?€€ | 1.6890 | 0.6890 | 1.0000?€€ | 1/2 |
| mm | | 164 | 130.2 | 18 | 16 | 33 | 13 | 90 | 43.7 | 42.9 | 17.5 | 25.4?€€ | 12.7 |
ss==