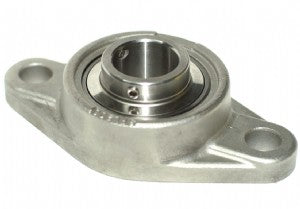 2 7/16" 2-Bolt Flange Bearing SUCSFL212-39
SUCSFL212-39

SUCSFL212-39 2-Bolt Flange Bearing?has a wide inner ring with two set screws that are attachments to the shaft. This specific bearing?SUCSFL?212-39 2-Bolt Flange Bearing?has a combination of a stainless steel set screw insert bearing and a oval stainless steel?2-Bolt Flange housing. The?SUCSFL?200 Series?bearing insert has two grub screws to allow tightening against the shaft once fitted correctly.
Common usage for?SUCSFL?2-Bolt Flange Bearing?include of the following: Agricultural, Automotive, Construction, Sporting and Consumer Goods, Pump, Manufacturing Equipment, Fan Assemblies, Farm Machinery, Conveyor, Feed Mill, Economical Housed Bearing, and many other Industrial Equipment's.


SUCSFL 212-39 Dimensions

| | | | | | | | | | | | | |
| --- | --- | --- | --- | --- | --- | --- | --- | --- | --- | --- | --- | --- |
| Unit | Shaft Dia | a | e | i | g | l | s | b | z | Bi | n | Bolt Size |
| inch | 2 7/16 | 9 27/32 | 7 61/644 | 1 9/64 | 23/32 | 1 7/8 | 29/32 | 5 1/2 | 2 23/32 | 2.5630 | 1 | 3/4 |
| mm | | 250 | 202 | 29 | 18 | 48 | 23 | 140 | 68.7 | 65.1 | 25.4 | M20 |