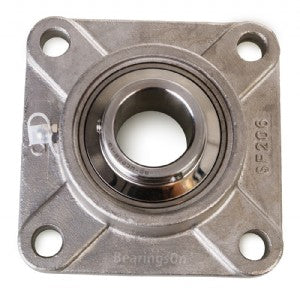 1 1/4" Stainless Steel 4-Bolt Flanges SUCSF206-20
SUCSF206-20

SUCSF206-20 4-Bolt Flange Bearing?has a wide inner ring with two set screws for the attachment of the shaft. This bearing?SUCSF?206-20 4-Bolt Flange Bearing??has an combination of a set screw stainless steel insert bearing with a slinger seal design and a unique?stainless steel?4-Bolt Flange housing with an anti-rotation device.
The?SUCSF200 Series?Pillow Block bearing is mainly applied in the occasion that the side which is vertical to axis is fixed by 4 bolts. Its fixed mode is the same with UCP Pillow Block Bearing and widely used in machinery.

Unit

Shaft Dia

a

e

i

g

l

s

z

Bi

n


Bolt?
Size

inch

1 1/4

4 1/4

3 1/4

45/64

9/16

1 7/32

15/32

1 19/32

1.5000

0.626


3/8

mm




108

83

18

14

31

12

40.2

38.1

15.9


M10
>crrg