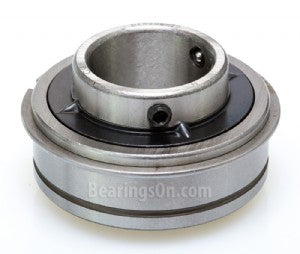 12MM Insert Bearings SER201-12MM
SER201-12MM

SER201-12MM Insert Bearings with a Snap Ring?has two set screws for the attachment to the shaft.?
The?SER 201-12MM Series Insert Bearing with a Snap Ring?has a parallel outer diameter and comes to the exact fit of a snap ring. There are also two grub screws which allows it to tighten against the shaft once it is fitted properly.
Common usage for?SER200 Series Insert Bearing?include: Agriculture, Automotive, Pump, Sporting and Consumer Goods, Construction, Manufacturing Equipment, Conveyor and Fan Assemblies, and light and heavy industrial use.


SER 201-12MM Dimensions























?

Unit

Shaft Dia

Dimensions

d

D

Bi

Be

n

m

E

a

h

R

J

P

G

ds

inch




1.8504

1.2189

0.6252

0.4512

0.7677

0.4323

0.0421

0.1575

0.1197

0.1378

2.0669

0.1969

1/4-28 UNF

mm

?€€12

47

30.98

15.88

11.46

19.5

10.98

1.07

4.0

3.04

3.50

52.5

5.0

M6 x 1.0