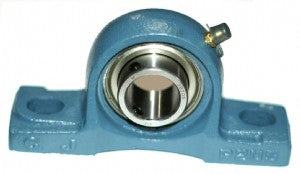 1-1/2" Pillow Block Bearing SBP208-24G
SBP208-24G

SBP208-24G Pillow Block Bearing?has a combination of a normal duty cast iron pillow block housing with an anti-rotation device that is self-aligning and a light duty set-screw type insert bearing with a slinger seal design. This feature has a standard re-lubrication. This specific bearing has a cast iron iron unit with high center height.
The?SBP200 Series?has a component that is self-aligning which compensates for the alignment errors and the flexing of the shaft.?
Common usage for this series as agricultural machinery, textile machinery, and conveyor systems.


SBP 208-24G Dimensions

Unit

Shaft Dia

h

a

e

b

S2

S1

g

w

Bi

n

K


Bolt?
Size

inch

1 1/2

1 15/16

7 1/4

5 13/32

2 1/8

25/32

21/32

45/64

3 27/32

1.7205

0.3543

2.3740


1/2

mm

49.2

184

137.3

54

20

16.7

18

97.6

43.7

9

60.3


M14