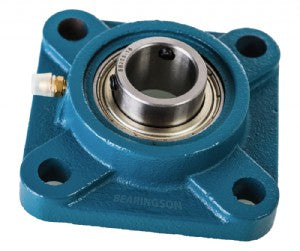 1" 4-Bolt Flange Bearing SBF205-16G
SBF205-16G

SBF205-16G 4-Bolt Flange Bearing?has a combination of a light duty set screw insert bearing and a normal duty 4-bolt flange cast iron housing. The self-aligning compensates for the any alignment errors and the flexing of the shaft.
Common usage for?SBF 4-Bolt Flange Bearing?include: Agriculture, Automotive, Pump, Sporting and Consumer Goods, Construction, Manufacturing Equipment, Conveyor and Fan Assemblies, Farm Machinery, HVAC, Feed Mill, Economical housed bearing solution and many other industrial equipment.

Unit

Shaft Dia

a

e

i

g

l

s

Bi

n

m

Z


Bolt?
Size

inch

1

3 3/4

2 3/4

5/8

9/16

1 1/16

15/32

1.0630

0.2953

0.768

1 25/64


3/8

mm

95

70

16

14.3

27

12

27

7.5

19.5

35.5


M10