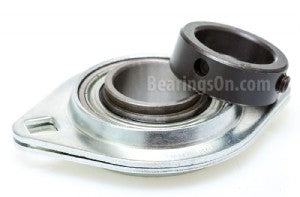 1/2" Pressed Steel Oval 2-bolt Flange Bearing SAPFL201-8
SAPFL201-8

SAPFL201-8 Pressed Steel Oval 2-Bolt Flange Bearing
contains pressed steel oval 2-bolt flange bearing housing and a light duty eccentric locking collar insert bearing. This specific bearing is designated for light to medium duty applications; they can be bolted to sheet metal frameworks and timber if necessary.?
Common usage for?
SAPFL200 Series Pressed Steel Oval 2-Bolt Flange Bearing?
consist of: Automotive, Agricultural, Conveyor, Fan Assemblies, Light to heavy industrial use, and engineering needs.
SAPFL 201-8 Dimensions

Unit

Shaft Dia

a

e

t

b

s

m

B

D1


Bolt?
Size

inch

1/2

3 3/16

2 1/2

2

2 5/16

9/32

9/32

1.1260

1.3110


1/4

mm

81

63.5

59

7

7

28.6

33.3


M6