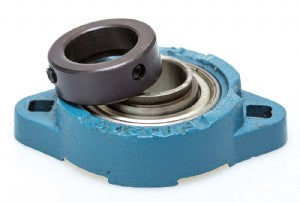 35MM 2-Bolt Ductile Flange Bearing SAFTD207-35MM G
SAFTD207-35MM G
SAFTD207-35MM G 2-Bolt Ductile Flange Bearing?has combination of ductile 2-bolt housing and eccentric locking collar insert bearing. Housing is a ductile iron with square bolt holes and a grease zerk for re-lubing the bearing. The bearing contains a narrow inner ring with a cam lock collar for attaching to the shaft. Ductile iron can be most useful in automotive components because the strength needs to surpass that of aluminum, but do not necessarily need/require steel.
High tensile strength 2-Bolt Ductile units for light duty application include: Agricultural, Automotive, Construction, Conveyors, Farm Machinery, HVAC, Feed Mill and many other Industrial Equipment?€?s.

SAFTD 207-35MM G Dimensions
?
Unit

Shaft Dia

L

J

A1

A

N

H

S

B

d1


Bolt
Size?




inch




?4 51/64

3 15/16

1/2

15/16

13/32

3 1/2

0.3345

1.697

2.1890


3/8



mm

35

122

100

12.7

23.8

10.3

89

8.5

43.1

55.6


M10