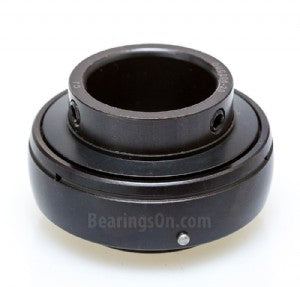 2" Insert Bearings OUC211-32
OUC211-32

OUC211-32 Insert Bearing?has a property that contains black oxide and specific characteristics that makes it ideal for certain applications. As for appearance it is used to add mild corrosion resistance. Black oxide consists of a coating for ferrous materials like copper and any copper based alloys, powdered metals, zinc, and silver solder.?
Conversion coating is formed by a chemical reaction produced when parts are immersed in the alkaline aqueous salt solution operated at 285 degrees F.



OUC 211-32 Dimensions

| | | | | | | | | |
| --- | --- | --- | --- | --- | --- | --- | --- | --- |
| Unit | Shaft Dia | D | Bi | Be | n | m | G | ds |
| inch | 2 | 3.9370 | 2.1890 | 0.9843 | 0.8740 | 1.3150 | 0.3543 | 3/8-24 UNF |
| mm | | 100 | 55.6 | 25 | 22.2 | 33.4 | 9 | M8 X 1.25 |