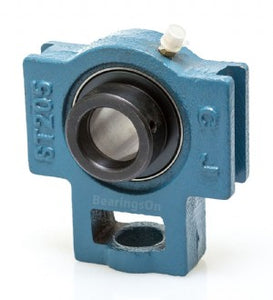 3/4" Mounted Bearing Unit HCST204-12
HCST204-12

HCST204-12?has a cast iron unit for conveyor applications and the requirements necessary are belt-tightening and shaft adjustment devices. Re-lubrication feature is standard for this?HCST200 Series.
Common usage for?HCST200 Take-Up Bearing Unit?include?of the following: Agricultural, Automotive, Construction, Sporting and Consumer Goods, Pump, Manufacturing Equipment, Fan Assemblies, Farm Machinery, Conveyor, Feed Mill, Economical Housed Bearing, and many other Industrial Equipment's.


| | | | | | | | | | | | | | | | | | |
| --- | --- | --- | --- | --- | --- | --- | --- | --- | --- | --- | --- | --- | --- | --- | --- | --- | --- |
| Unit | Shaft Dia | o | g | p | q | s | b | k | e | a | w | l | j | r | h | Bi | n |
| inch | ?? 3/4 | 5/8?€€ | 13/32?€€ | 2?€€ | 1 1/4?€€ | 3/4?€€ | 2?€€ | 17/32?€€ | 3?€€ | 3 1/2 | 3 11/16 | 13/16?€€ | 1 1/4?€€ | 1 19/64 | 2 13/32 | 1.713?€€ | 0.669?€€ |
| mm | | 15.875 | 10.319 | 50.8?€€ | 31.75?€€ | 19.05?€€ | 50.8?€€ | 13.494?€€ | 76.2?€€ | ?€€88.9 | 93.66?€€ | 20.64?€€ | 31.75?€€ | 32.94?€€ | 61.12?€€ | 43.51?€€ | 16.99?€€ |