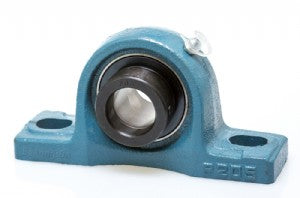 35MM Pillow Block Bearings HCP207-35MM
HCP207-35MM

HCP207-35MM Pillow Block Bearings?has a combination cast iron pillow block housing with an anti-rotation device that is self aligning and an eccentric locking insert bearing with a slinger seal design. This specific bearing has a cast iron unit with the standard base to center height and a wide inner ring with two set screws for the attachment to the shaft.?
HCP200 Series?have a medium duty bearing that has a larger housings and a larger OD bearing than the standard duty bearings. This 200 Series allows larger loads for the same sized shaft.

Common usage for?HCP200 Series Pillow Block?Bearing?include of the following: Agricultural, Automotive, Construction, Sporting and Consumer Goods, Pump, Manufacturing Equipment, Fan Assemblies, Farm Machinery, Conveyor, Feed Mill, Economical Housed Bearing, and many other Industrial Equipment's.


HCP 207-35MM Dimensions


Unit

Shaft Dia

h

a

e

b

S2

S1

g

w

Bi

n

i

K


Bolt?
Size

inch




1 7/8

6 9/16

5

1 7/8

25/32

43/64

45/64

3 21/32

2.0118

0.7402

0.5315

2.1890


1/2

mm

35

47.6

167

127

47.6

20

17

18

92.9

51.1

18.8

13.5

55.6


M14













ggg L