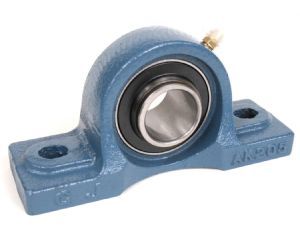 1-1/2" Pillow Block Bearing W/ Lock Collar HCAK208-24
HCAK208-24

HCAK208-24 Pillow Block Bearing?has a combination of an eccentric locking insert bearing and a low center base pillow block housing for with an anti-rotation device that is self-aligning.
HCAK200 Series?bearing has a wider inner ring with an eccentric locking collar for the attachment to the shaft.

Common usage for?HCAK200 Series?Pillow Block Bearing include: Agriculture, Automotive, Construction, Pump, Manufacturing Equipment, Sporting and Consumer Goods, Conveyor and Fan Assemblies, Farm Machinery, HVAC, Feed Mill, Economical housed bearing solution and many other Industrial Equipment.


HCAK 208-24 Dimensions

Unit

Shaft Dia

h

a

e

b

S2

S1

g

w

Bi

n

i

K


Bolt?
Size

inch

1 1/2

1 5/16

7 1/8

5 1/2

2 1/8

3/4

19/32

3/4

?3 15/16

2.2165

0.8425

0.5315

2.3740


1/2

mm




49.2

181

140

53.9

19

15

19

100

56.3

21.4

13.5

60.3


M14
Interchange List
| | |
| --- | --- |
| | Pre-Lube |
| PEER | UGAK208-24 |
| BROWNING | VPLE-224 |
| AMI/ASAHI | UGAK207-24 |
| IPTCI | NAPL207-24 |
| NTN | UELPL208-108D1 |
| SEAL MASTER | RPL-24E |
| DODGE PART # | 131841 |
| DODGE DESCRIPTION | P2B-SXRB-108 |
| LINK-BELT | PL3-Y224N |
| SKF | SYH 1 1/2 WF |