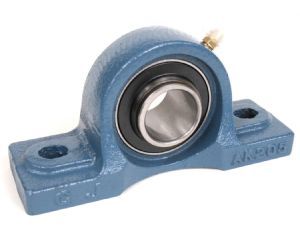 30MM Pillow Block Bearing W/ Lock Collar HCAK206-30MM
HCAK206-30MM

HCAK206-30MM Pillow Block Bearing?has a combination of an eccentric locking insert bearing and a low center base pillow block housing for with an anti-rotation device that is self-aligning.
HCAK200 Series?bearing has a wider inner ring with an eccentric locking collar for the attachment to the shaft.

Common usage for?HCAK200 Series?Pillow Block Bearing include: Agriculture, Automotive, Construction, Pump, Manufacturing Equipment, Sporting and Consumer Goods, Conveyor and Fan Assemblies, Farm Machinery, HVAC, Feed Mill, Economical housed bearing solution and many other Industrial Equipment.


HCAK 206-30MM Dimensions

Unit

Shaft Dia

h

a

e

b

S2

S1

g

w

Bi

n

i

K


Bolt?
Size

inch




1 9/16

6 5/16

4 3/4

1 7/8

3/4

19/32

11/16

?3 5/32

1.9016

0.7165

0.4685

1.7520


1/2

mm

30

39.7

160

120.7

47.6

19

15

17

80

48.3

18.2

11.9

44.5


M14