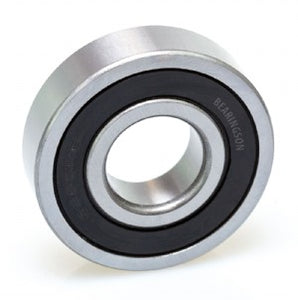 1605-2RS Radial Ball Bearing
1605 2RS

1605 2RS Single Row Radial Ball Bearing?
is designed specifically to be dimensional and interchangeable with standard domestic inch series ball bearings.?
1600 Series Single Row Radial Ball Bearing?
incorporate the ABEC1 tolerances and 52100 steel which allows them to offer economy with electric motor quality. The 1600 Series is available in shielded and sealed configurations. The improved ball complements and close tolerances can also increase their load capacity.?
1605 2RS Dimensions
Bearing?
No.

Bore
d

Outer Diameter
D

Width
W

Radius
r

Basic Load Rating (lbs)

fraction

inch

fraction

inch

fraction

inch

inch

Dynamic

Static

1605

5/16

.3125

29/32

.9062

5/16

.3125

.012

725

318